The topic of cleaning the kitchen is tedious, but it is impossible to avoid. After all, cleanliness and hygiene are very important as we prepare our food there. Therefore, this is a point that needs to be considered when planning a kitchen invasion! When it comes to cleaning, some materials and appliances are easier than others to clean, whereas kitchen furniture and electrical appliances may require different efforts. Here will give you some tips for effective Kitchen cleaning and care.
Checklist for Kitchen cleaning
Our goal is to help you maintain the shine and appearance of your dream kitchen for as long as possible,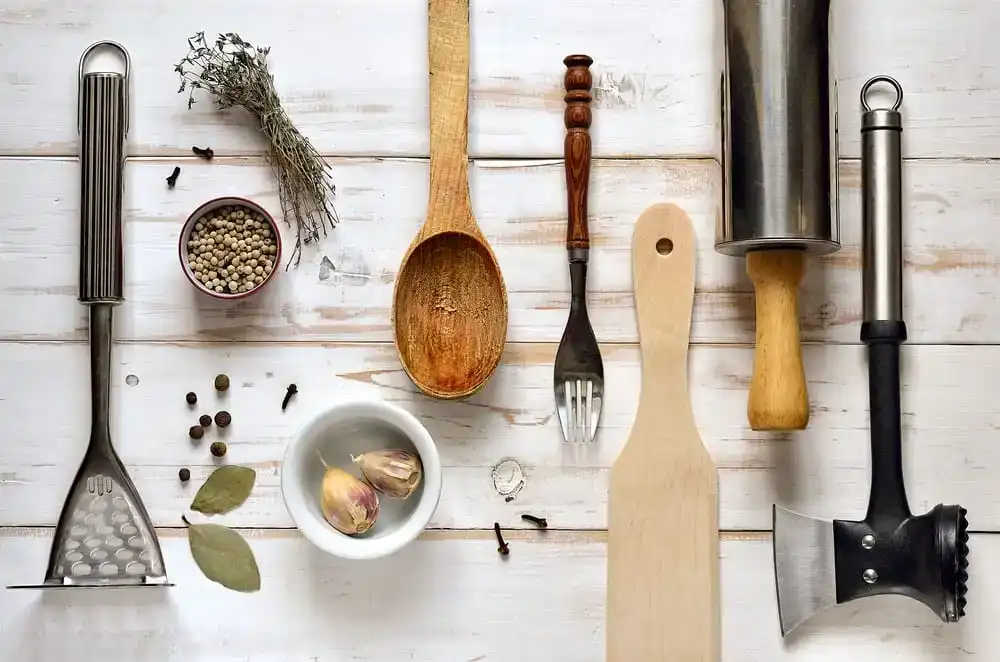 Cleaning wood carefully
Natural products, such as wood, are very sensitive to incorrect cleaning, which can ruin the attractive appearance very easily. It is important to take care when cleaning wood. Therefore, wood surfaces – such as cabinets and countertops – should be handled carefully. It is crucial to remove stains promptly with a damp cloth that is not too wet. It is best to not let stains dry.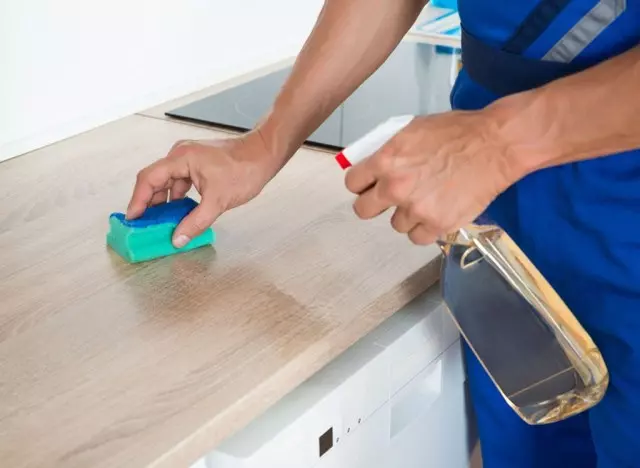 When wiping a stubborn stain, add a few drops of neutral soap. If you are cleaning, always wipe wood in the direction of the fibers. As a result, the wood won't be damaged unnecessarily. It is also vital that you carefully dry the wood after cleaning since it absorbs moisture and can swell when wet.
Regularly treating the wood with oil will keep it in good condition for a long time. This application is best suited to linseed oil as it quickly dries and absorbs well within the wood. Make sure that you oil the wood grain-forward when oiling the kitchen furniture. To ensure that the wood dries quickly after the procedure, give it a couple of days to do so. If the wood is properly maintained, it will remain attractive for longer and is easier to clean.
Aside from that, the fact that wood changes color over time as it is exposed to light adds to its beauty. It is however vital that you make sure that your kitchen is well-lit, depending on its shape and arrangement of its windows. If not, some surfaces may fade.
In a situation like this where the front is exposed to direct sunlight for several hours a day, the color will change very quickly. As a result, some cabinets may appear brighter than others in the kitchen. This effect is usually prevented by using a thin curtain or roller blind in this situation.
Stone surfaces: how to clean them?
Along with wood, stone has also become more popular in kitchens. More and more people are opting for countertops made of natural stone. The method of cleaning is same for stones as it does for other surfaces. To begin with, use a gentle cleaning method.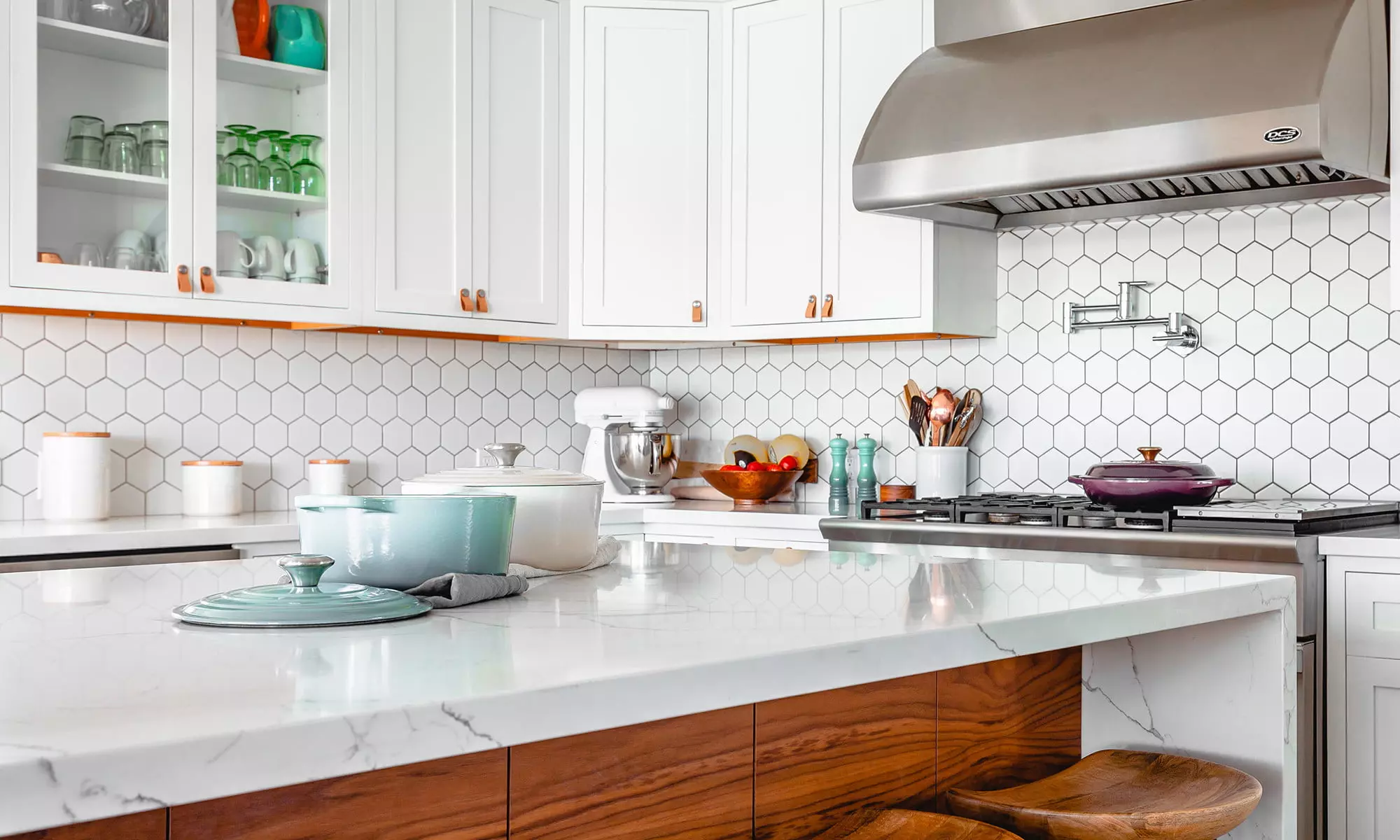 The resistance of surfaces to heat and mechanical impact also varies with the type of stone. Marble and slate are sometimes more susceptible to scratches and stains, as opposed to granite which is extremely resistant. In particular, marble is highly sensitive to acids, so remove splashes as soon as possible.
For doing so, it is important to use special cleaners that are commercially available and that are designed to protect chic stone surfaces. Additionally, to maintaining the stone regularly, you should consider long-term sealing. In this way, liquids will not penetrate the porous surface of the stone and cause stains.
Tips for cleaning glass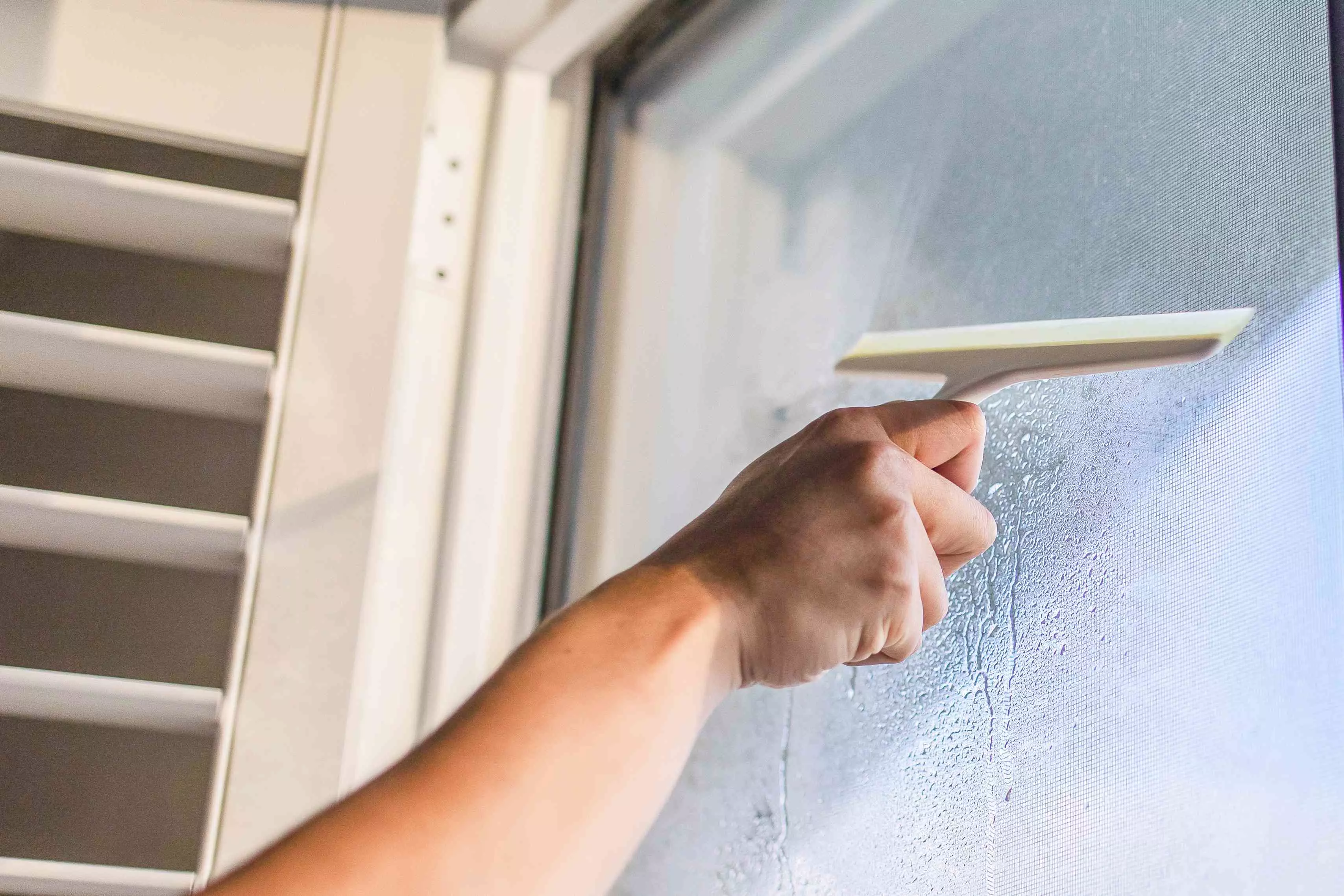 In the kitchen, glass is perhaps one of the most insensitive materials, but it does have the disadvantage of being very visible to even small amounts of dirt. Glass, however, is easy to clean. As a result, it is necessary to clean the kitchen more often than any other material in order to keep it looking perfect. Besides that, nothing more needs to be done to maintain the surface in the long run. Usually, you can clean glass by splashing some spirit or vinegar on it and wiping it with a soft cloth. You should also use the usual commercial glass cleaners for maintenance.
Cleaning the kitchen cabinet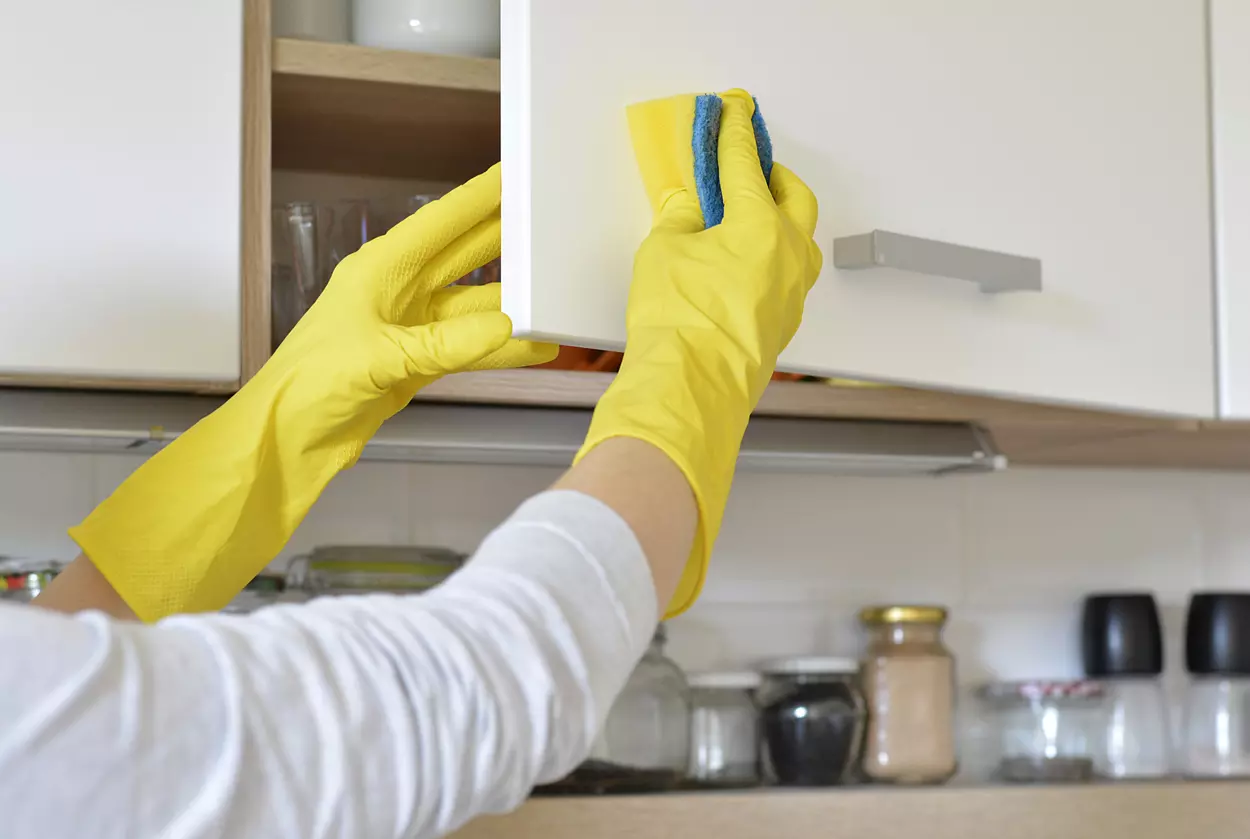 For kitchen cabinets with glass fronts, you should not use alkaline detergents, acids, or cleaners containing fluoride, as these could damage the surface. Additionally, do not use steel wool, razor blades or similar tools to remove stubborn dirt, as the glass may be damaged. The matter is especially critical for satin glass, which is a much more sensitive surface than normal glass. Again, you should only use water and mild cleaners for cleaning.
Cleaning stainless steel: Tips and tricks
Kitchens and appliances made of stainless steel look modern and exclusive. Stainless steel looks particularly stylish when paired with black or dark gray kitchen cabinets. However, grease and fingerprints quickly detract from the chic look. As we have mentioned before, stainless steel can be cleaned and cared for quite easily using water and a soft cloth.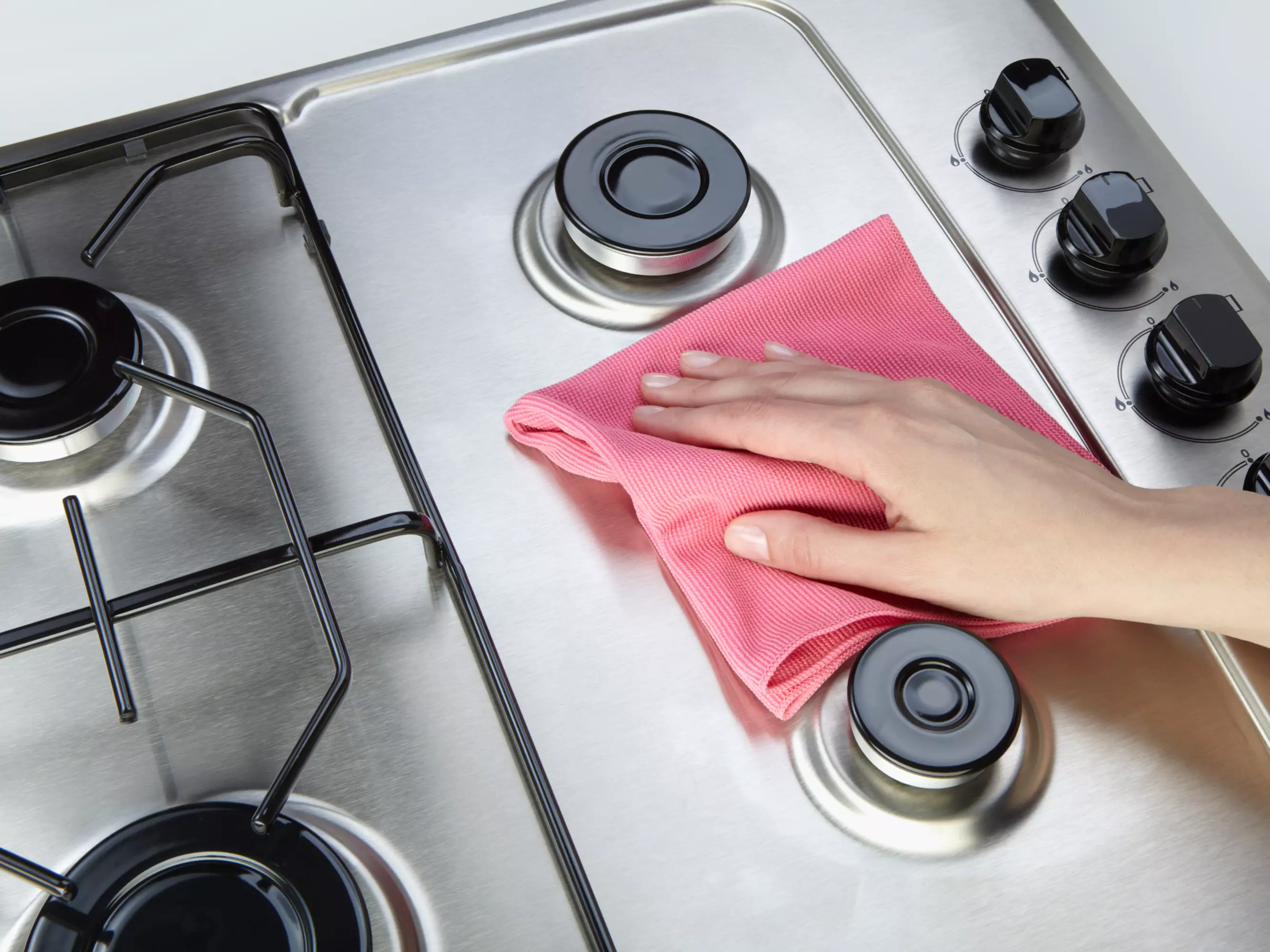 Clean stainless steel kitchen appliances or other surfaces with slightly dampened microfiber cloths. To get rid of stubborner stains, mix a little dishwashing liquid in the water while wiping. By wiping with hot water and gently rubbing dry, you will prevent streaks from forming on stainless steel surfaces. Towels made of paper are good for dry wiping. Even though stainless steel care is a bit labor intensive, you'll end up with a shiny result.
A matt stainless steel surface requires special care.
A brushed stainless steel front is often used on kitchen appliances. Matte finishes are typically created by grinding the surface during manufacturing. In order to keep stainless steel from being scratched, you have to clean only with the direction of grinding. If you wipe across the grain with a soft cloth, the surface will be permanently damaged.
Stainless steel sinks can become discolored from tea discoloration or oil deposits due to grease deposits, and a common household cleaning milk will help remove these deposits. If the tap water is highly calcareous, rubbing is also needed after cleaning the surface.
If you want to reduce the likelihood of getting any lime scale stains on stainless steel, remove wet cleaning cloths after cleaning. If lime deposits are stubborn on stainless steel, they can be treated with a vinegar solution of 25 percent, as ISER recommends. After that, cleanly rinse and dry.
Avoid using these cleaning methods
You should make sure to refrain from using abrasive cleaning agents when cleaning stainless steel surfaces. They scratch the surface. Cleaning stainless steel with scouring pads or steel wool is also discouraged by stainless steel professionals. During these processes, iron particles are released and the surface does not self-protect. Also, do not use disinfectants and bleach on stainless steel. They can permanently damage the material. Cleaning stainless steel should not be done with chemicals containing strong acids, salts, or chlorides.
In order to protect your stainless steel surfaces in the kitchen against grease stains and fingerprints, you can use silicone-oil-based cleaning sprays. Cleaning stainless steel is made easier with these tools, which are usually designed specifically for cleaning stainless steel. New fingerprints are prevented from being made and existing ones can be removed effortlessly. Care for the surface can last for several days or even weeks, depending on how often it is used. Dish soap removes the light protective layer during cleaning.
The same goes for decorative surfaces like refrigerators or stainless steel range hoods, which can be cleaned with thick and creamy cleaners. A thin, dirt-repellent, durable and durable hard wax layer forms. The wax layer does not dissolve even when cleaned with dishwashing liquid, protecting the surface for months. This makes stainless steel surfaces easier to clean. Alcohol can be used to remove the layer. These products, however, will not be effective on surfaces that come into direct contact with food.
Easy to clean: Plastic
Since this material is relatively insensitive, its surfaces are easy to clean. If you are cleaning the kitchen, use vinegar or regular all-purpose cleaner to clean plastic surfaces. As opposed to most other materials, plastic can also tolerate dirt, moisture, and grease splatters if they are not immediately removed. However, as with abrasives, you should avoid using cleaners with grit or scratchy sponges. Rather than using a rag, wipe clean the kitchen.
Cleaning lacquer
When it comes to lacquer, there is a difference between matte and glossy coatings as well as foil and actual lacquer. In comparison to foil-coated fronts, real lacquer requires a bit more effort to clean. Unlike real lacquer, real lacquer is more durable and less likely to scratch.
You cannot use microfiber cloths to clean either of the variants. There is a roughened surface to matte fronts, which makes staining and discoloration easier. It is therefore imperative to remove all splashes right away. Alternatively, you can use soapy water diluted in water. Once everything is dry, wipe it down.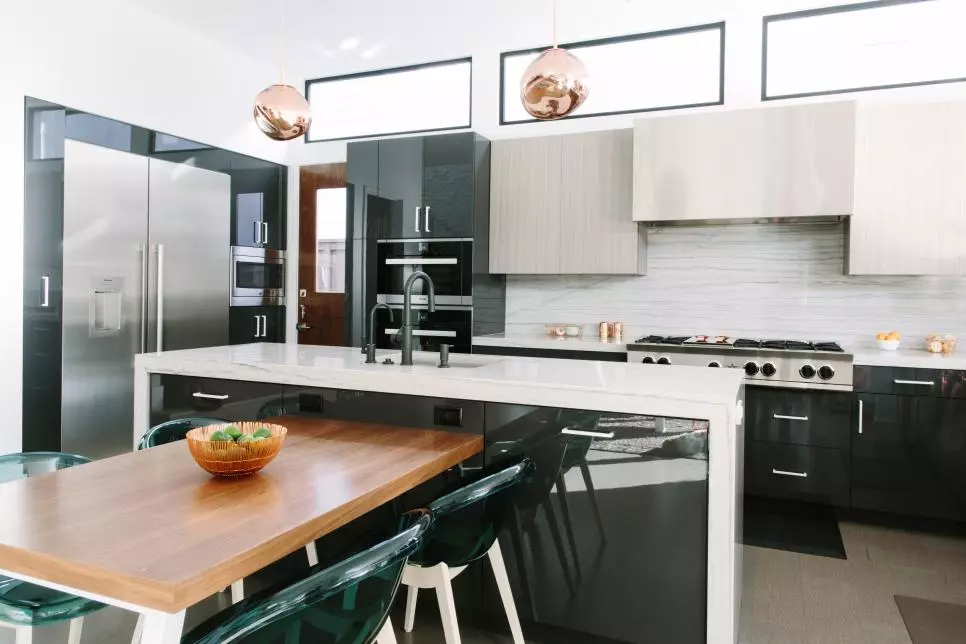 The high-gloss kitchen fronts made of real lacquer are so smooth and closed that the protective coating can be easily removed. To clean the kitchen, it is essential that cotton or chamois leather cloths are used only. By doing so, the shine is guaranteed to last for a long time. Clean surfaces effectively without leaving scratches or discoloration by using a mild dishwashing liquid or detergent. A glossy kitchen doesn't need scouring agents or scratchy sponges.
Cleaning tips for the countertop
Countertops for kitchens come in many varieties. These are some of the most common:
Plastic
Wood
Stainless steel
Glass
Natural stone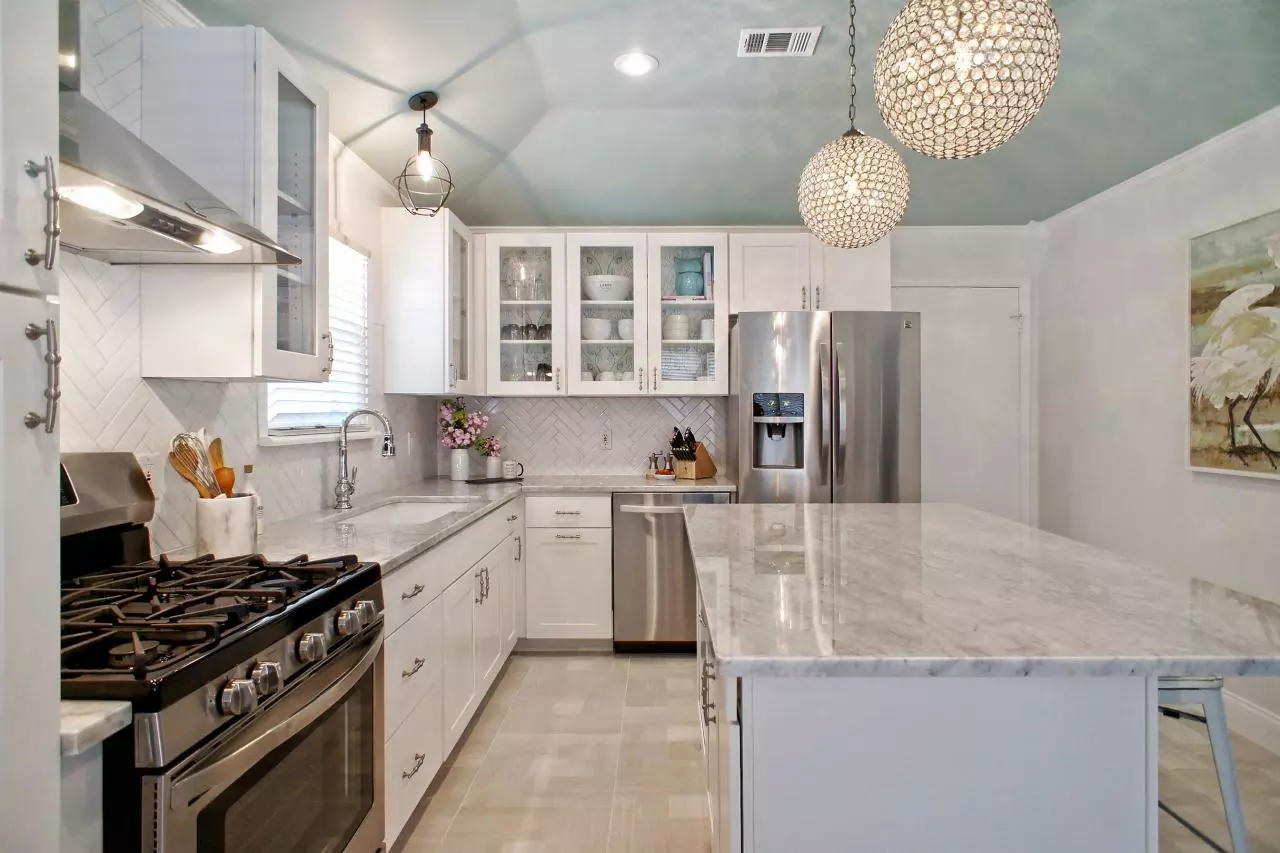 Regardless of which material you choose, countertops have to withstand a lot of wear and tear. Therefore, they should be durable and easy to keep clean. If you spill or splash something on your clothing, wipe it up immediately, since stagnant liquids can damage the fabric or leave unsightly stains. The easiest type of countertop to clean is plastic.
It is highly likely that even a small puddle will remain without consequence here, but the pressed wood can swell if the water gets in over the edges or at the transition between the stove and sink. Thus, it is still better to remove spilled liquids immediately.
Stainless steel, glass, wood and other materials used for countertops must be cared for the same as those used for fronts. It is best to consult the manufacturer or kitchen studio if you are unsure of the cleaning agent to use. For safety's sake, it is recommended to test the cleaners in an inconspicuous area before using them on the countertop.
In addition to looking chic in the kitchen, natural stone countertops such as granite, marble, and slate are also sturdy when well impregnated. Due to its softer surface, marble is relatively easy to scratch when compared to granite and slate. In order to prevent harm to natural stone countertops, cleaning them with special care products without acids is a safer option.
Disinfect countertop: Is it really necessary?
While some advertisers suggest it: Countertops should not be disinfected unless they have been contaminated Nevertheless, you should store and process food on cutting boards rather than directly on the countertop. Always use separate boards (or knives) for vegetables, raw meat, and fish. In addition to being rinsed immediately after use, boards should also be put in the dishwasher. Immediately wipe every operation with a damp cloth or sponge and a suitable cleaning agent to ensure that no harmful bacteria get on the worktop.
Care tips for sinks
Near the stove and the countertop, the sink is where most of the cooking takes place. Keeping water, grease and other liquids in contact with the sink makes it vulnerable to damage. It is also necessary to observe proper hygiene since both dirty dishes and fresh food are handled here. The material of the sink determines how easy it is to clean.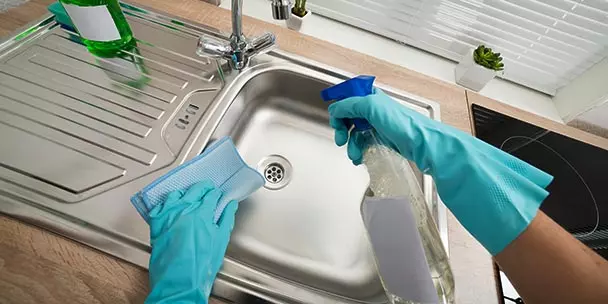 The most common sink materials are stainless steel, ceramic, and granite. You can clean your stainless steel sink with a damp cloth and dishwashing liquid. Afterwards, rub a dry cloth over the lime stains to remove them. Stainless steel sinks are prone to scratches. The result is a loss of luster in older stainless steel sinks. However, to restore the shine of stainless steel by gently wiping it with a soft cloth followed by wiping off the cleaner.
Since granite and ceramic sinks do not need a gloss, they can be easily cleaned with detergent and water. You can prevent limescale stains by rubbing regularly.
Note: Sinks of all types should have drains and overflows, so don't overlook them!
There is a possibility of food residues sticking here for a long time, which causes an unpleasant odor. In order to keep these parts clean, you should make sure they're regularly cleaned. The use of drain cleaners should, however, only be done in situations where a blockage actually exists. Baking soda and vinegar is a great home remedy that clears the drain, perhaps even with the use of a plunger.
Among the newest sinks are ones with lotus effects. When a sink is sealed with nanotechnology or glazed with ceramic, it is so smooth that dirt, food residues, germs, and water droplets cannot adhere to it. Consequently, it is much less necessary to clean the sink frequently. With regard to sinks, flush installations are much more convenient than cooktops. With no edges or crevices to collect dirt in, the surface is spotless when wiped over. If you plan to build a new kitchen, you might want to consider this.
Electrical appliances that make cleaning easier
Cleaning a kitchen is time-consuming in part because of the kind of electrical appliances you choose. In a clean kitchen, the biggest enemy is fat splashes, followed by dried or burned food residues. It may be more convenient to buy an induction cooktop if you don't want to have to remove grease and encrustations every time you cook.
Due to the fact that the technology heats only the pot or pan bottom, not the cooktop itself, overcooking and burn-in are rare. The clean-up of electric cooktops is relatively easy to do as well. A damp cloth can be used to clean glass ceramic cooktops, or special cleaner if they need it. In case you don't enjoy cleaning, you should avoid gas hobs, as they require considerable effort. Moreover, the fine nozzles tend to clog up if not cleaned regularly.
Cleaning the oven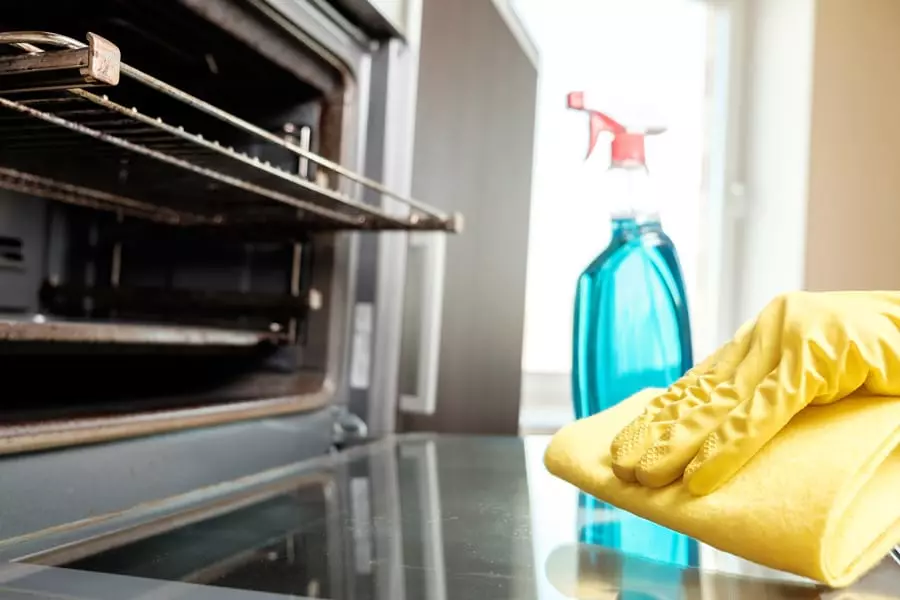 In the kitchen, cleaning the oven is undoubtedly one of the most tedious tasks. Nevertheless, appliances with smart features, like pyrolysis, can also simplify things for hobby cooks. This process results in the burning off of dirt and residue at high temperatures in the closed oven. It only takes a few minutes to wipe out the inside of the oven with a damp cloth. As an added bonus, this method eliminates the need for chemicals completely.
Cleaning grease in the kitchen – tips on how to remove it
It is likely that the surfaces of a kitchen will accumulate fine dust and grease over time depending on how frequent it is used. Most often, upper cabinets are not cleaned frequently enough, so quite a lot can store here. In order to avoid this, wipe down the upper cabinets at least once a month or change the newspaper that is placed there regularly. Grease solvents, dishwashing liquid or a glass cleaner are all effective for cleaning the tile backsplash behind the cooktop.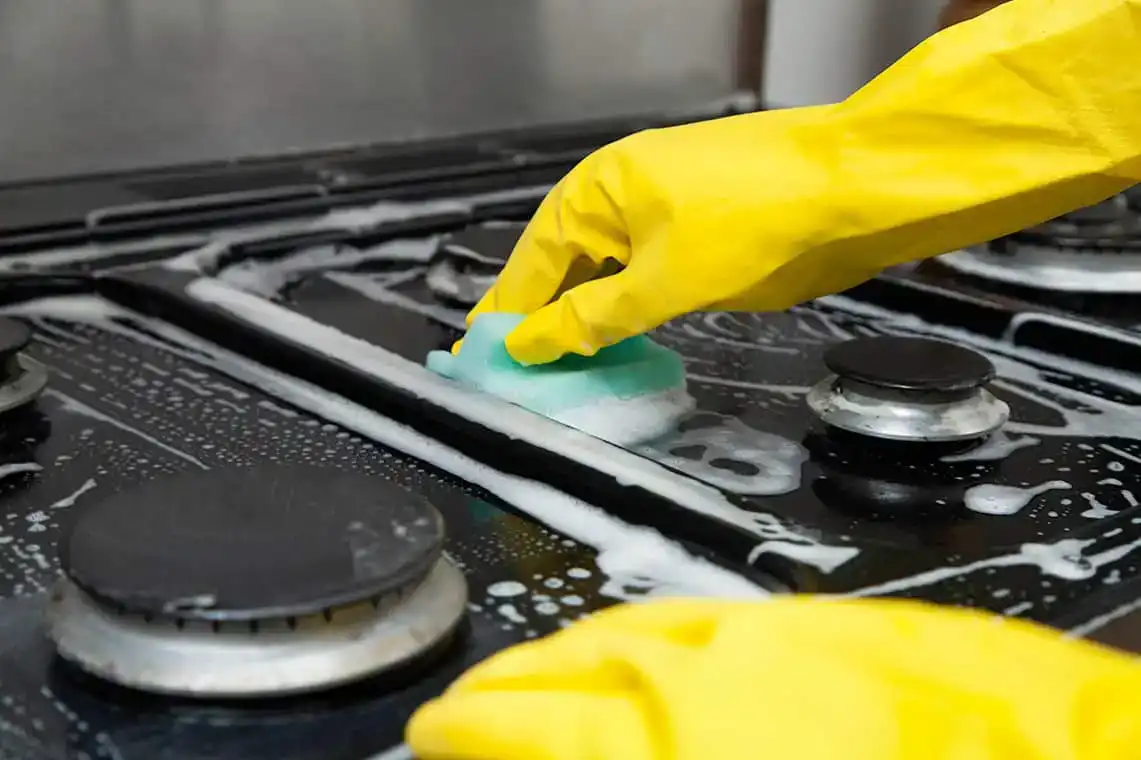 Even though "grease in the kitchen" cannot be completely eliminated, a powerful extractor fan can help to reduce its effects considerably. By sucking in the vapor, or the mixture of steam and grease produced during cooking, this prevents the mixture from spreading throughout the kitchen. You can perform this task with many different stovetop extractors, trough fans, range hoods and others.
Using them makes cleaning the kitchen easier. The filters should be cleaned on a regular basis. You can easily do this by cleaning the grease filters that come with your dishwasher. It's better if installation and removal are easy. It is also recommended that activated charcoal filters be changed about once every six to twelve months, depending on how often they are used. As part of kitchen cleaning, wipe the outside of the extractor hood occasionally so grease doesn't adhere to it and becomes increasingly difficult to remove.
How often do you have to clean the kitchen?
Cleaning the worktop after each use is necessary for hygienic reasons. To clean it, just use a damp cloth. Most kitchen sinks are constantly used, so they should also be cleaned regularly. Depending on how they are used, the cooktop and oven need to be cleaned more often. Among gas and induction cooktops, induction cooktops are the easiest to clean.
What are the best things to clean the kitchen?
It is a rule of thumb that milder is better here. You can usually suffice with vinegar or general-purpose cleaners as well as a few drops of washing-up liquid. Wood or natural stone surfaces should be cleaned with special cleaners.
How do you clean high gloss kitchen?
In reality, gloss real lacquer or foil coatings on kitchen surfaces are easy to maintain. There is very little dirt adhering to the surfaces because they are so smooth. Many manufacturers offer coatings to prevent fingerprints from appearing on the fronts of their products. To prevent scratches on high-gloss kitchen surfaces, use soft cotton cloths or chamois leather and a mild detergent.