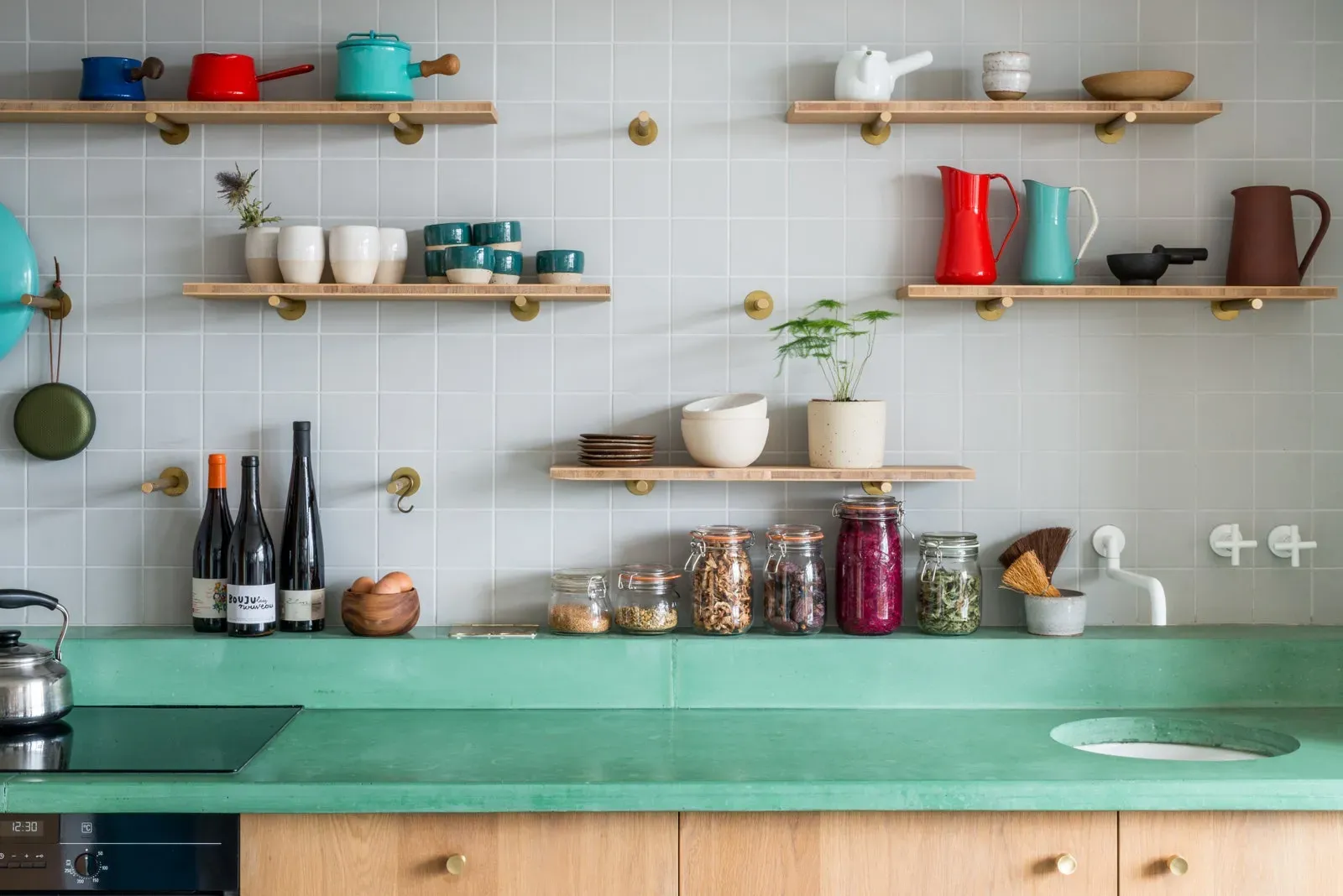 The planning of a small kitchen is a little more challenging than planning a large kitchen as there will be lesser space. Each centimeter must be considered; consider every detail precisely. To summarize, if space is limited, it is very important to plan perfectly to make the most of it. Looking at small house kitchens, it reveals that they are true experts in terms of space utilization.
There are many ideas and truly useful hacks people have on how to combine a lot of utility with a small amount of space in a kitchen, especially if they tend to live in small living spaces. At least most of the time, without sacrificing convenience.
Here are Some tips and tricks for small kitchens
We have highlighted the best tips and tricks for small kitchens, if implemented that can add much value within the present space. Here are they,
Tip 1: Plan accurately to save time and money.
It is imperative to remain patient when grabbing a saw and a hammer after finishing a project. Preparedness becomes even more crucial when space is limited. Kitchen planners are highly recommended since they are accurate down to the millimeter. Having an optimally planned kitchen will save you money and time during installation and help you in everyday life. Therefore, the kitchen zones must be considered and combined in a meaningful way when planning.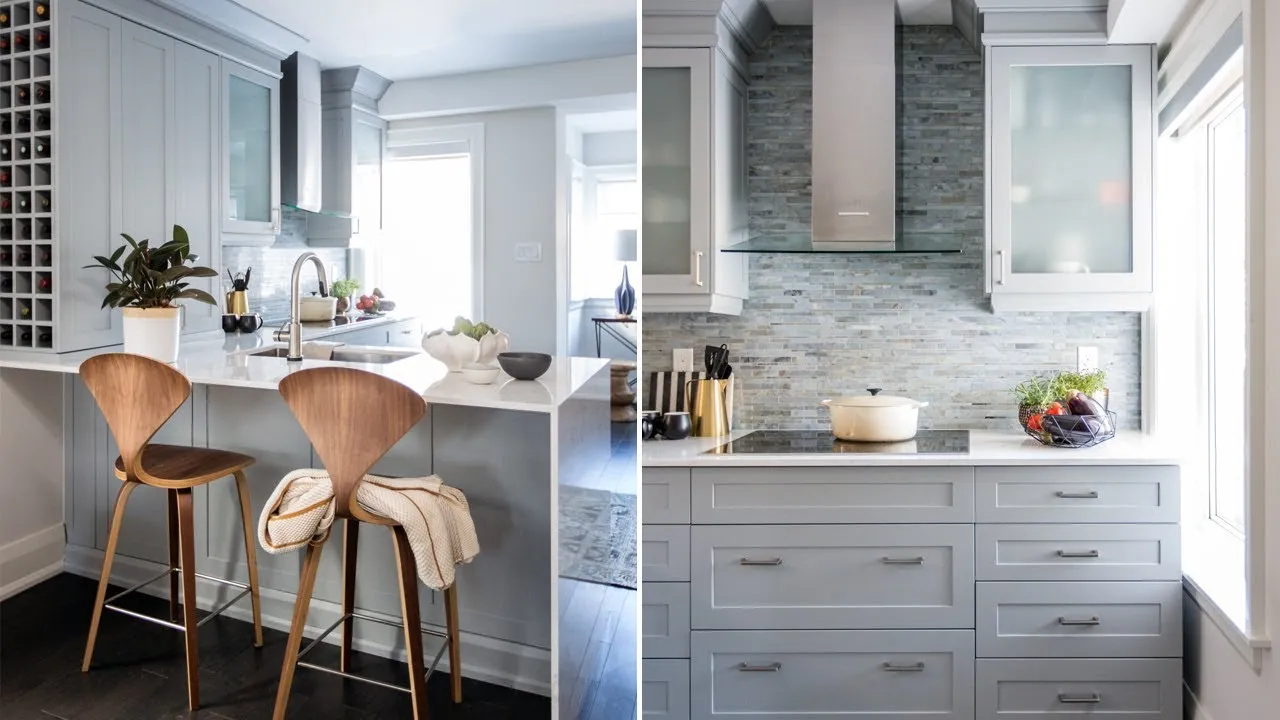 The five kitchen zones are:
Serving and cooling
Baking and cooking
Making preparations
Washing
Storing and stowing
A few fixed facts need to be considered when planning. Among them are unobstructed openings for doors or windows, as well as access to electricity and water. A lot depends on your budget, too. Planning for this from the start is essential. As kitchen sizes increase, cost decreases as well. However, small kitchens are often built up to a higher ceiling, so the bottom line is not solely about the area but also how much space the kitchen takes.
For example, you may be able to get a kitchen cabinet 4 meters wide with angled cabinetry for less than one that is 3 meters wide with ceiling-high storage space. The technical equipment is also part of this. The cost of a kitchen increases significantly as a result.
It is good to consult a professional if you cannot cope with kitchen planning alone. It is often hard to correct mistakes made in the planning stage during installation. These problems then remain, resulting in long-term problems or at least tedious work.
Examples:
It is planned to place the sink under the window front, to prevent the window from opening without problems.
Not realizing that the backsplash tile had power connections. The work surface does not have a direct power connection. Rather than using an extension cord, a multiple plug cable is used daily. In addition to looking unsightly, this takes up space, which is limited in a small kitchen.
Both the refrigerator and stove are located on the same side of the room. Thus, the refrigerator continuously consumes more energy.
Tip 2: Make the most of the room height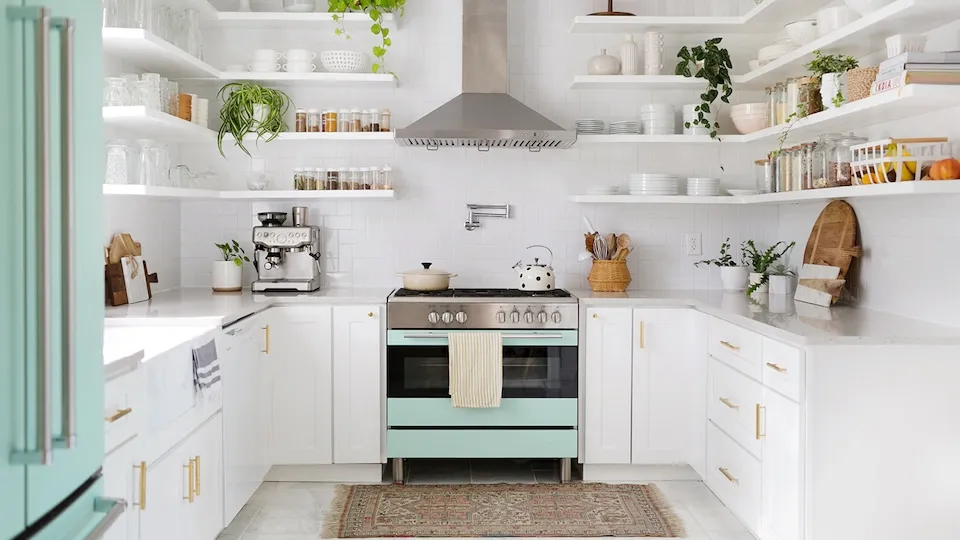 In small spaces, the height of the room can make a big difference. A small kitchen should utilize every inch of space, including the ceiling.
Wall cabinets with extra high shelves are ideal. The upper compartments are ideal for storing rarely used utensils.
A pharmacy cabinet is a real space saver. In a very small space, they offer a lot of storage space and can even reach the ceiling if necessary. In addition to being practical, you can even open apothecary cabinets to the front, so you can access items without going through extra steps.
Hanging systems provide the same clarity and can often make the best use of floor space as traditional storage, so they are recommended for organizing storage within the cabinets:
When it comes to pans and cookware, hanging storage makes optimal use of space, especially when the space is limited.
The use of wall-mounted holders for irons, mops, and vacuum cleaner hoses can also maximize space. Wall-mounted holders for irons, mops or vacuum cleaner hoses also have a positive effect on space utilization.
Tip 3: Set the kitchen unit in front of a partition wall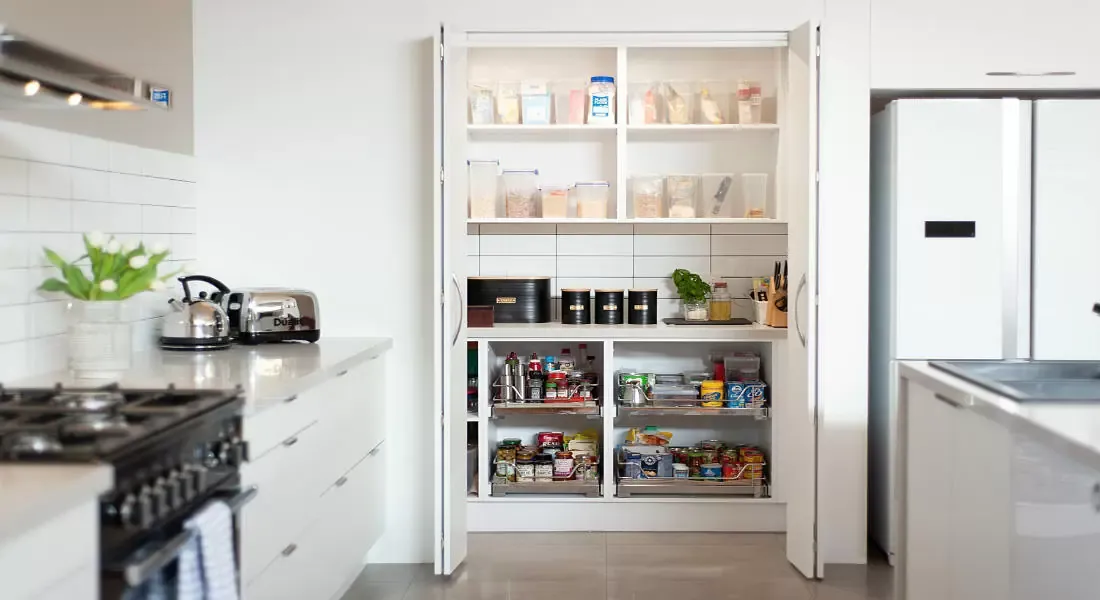 In case of space constraints, the kitchenette may be placed in front of an additional partition wall made of drywall. A narrow space is created by this partition, similar to a walk-in closet. Taking a part wall about 50-70 cm away from the main wall can create a space to store garbage, drinks, supplies, and a vacuum cleaner.
Tip 4: Design your kitchen ergonomically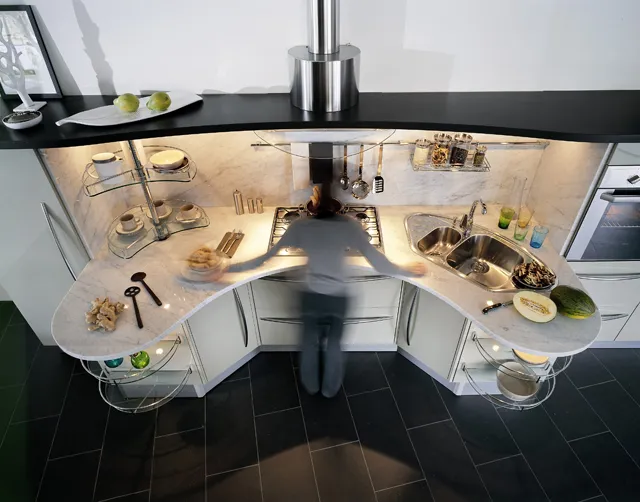 By planning ergonomically in small kitchens, it is possible to reduce their users pace requirements. It is easier to lift an oven or dishwasher if installed at a convenient height, and it is possible to put them away while standing. By doing so, the area of effect is reduced. With their folding lift doors, wall cabinets take up significantly less space when they're open.
Tip 5: Get multifunctional furniture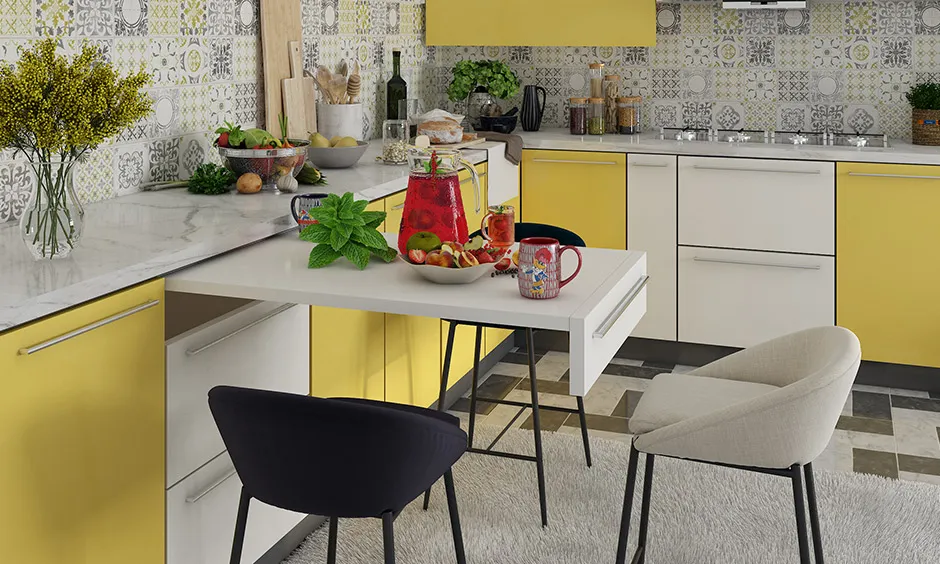 Multifunctional furniture allows you to save space and provide additional convenience when needed.
It can also serve as an ironing board since it is height-adjustable.
Dining tables can be rolled out of the way when not in use.
Using custom shelving in dead corners and under sloping ceilings optimizes available space.
In a small kitchen, storage space is crucial!
When needed, extending tables provide more space.
You can fold away wall-mounted tables when they are not in use.
Seats that stack are a viable option when there is a limited amount of space.
Likewise, caster-mounted storage stools are versatile.
Tip 6: Design tricks can maximize your kitchen space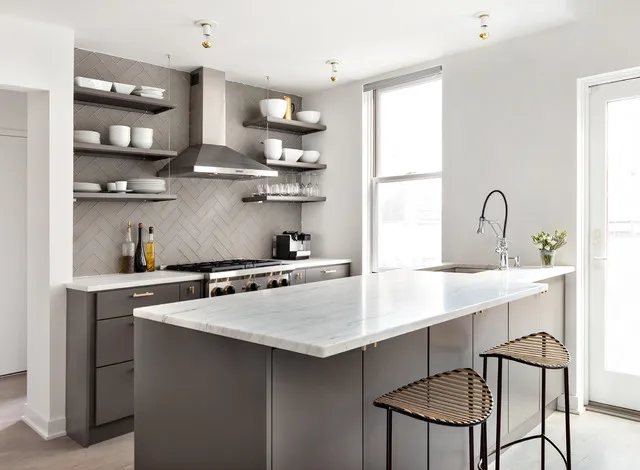 Glossy fronts are not just popular for modern kitchens; they help small kitchens appear larger , thanks to their reflective properties. The eye can also see further when upper cabinets have frosted or clear glass inserts. Stainless steel strips and mirror elements also enhance the results.
Light-colored walls and wooden surfaces provide visual enlargement when it comes to color and material selection. The room appears larger by choosing the same color for the walls and floor of a narrow room.
Tip 7: Make use of kitchen furniture as a bench

Those consumers concerned that they can't enjoy an eat-in kitchen due to space issues can at least have a comfortable bench in the kitchen: cabinets may be planned to be benches in the kitchen and thus provide more functionality. Besides serving as a seat, this serves to store utensils.
Tip 8: Handleless kitchens appear less bulky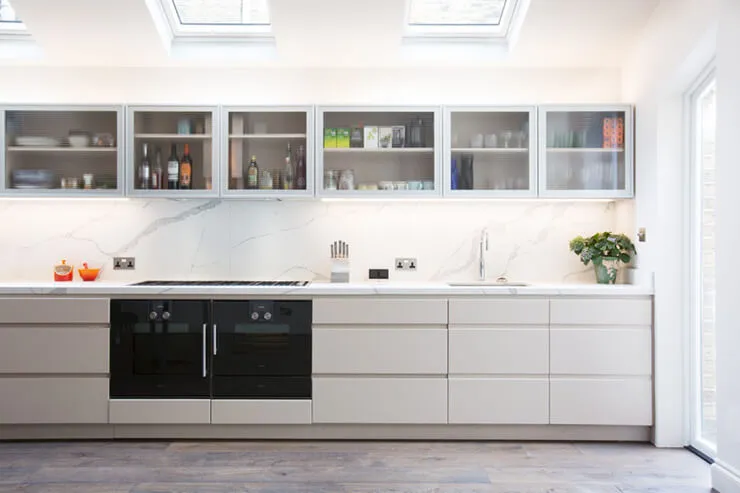 The most space-efficient kitchen units have flat, non-protruding surfaces, such as those without knobs or handles. There is a spatial hierarchy between the blocks that appears as though they are made from one piece. Using colors-rich surfaces in small kitchens is a good idea. You'll be in a good mood with this. Light and subtle colors create the illusion of more space.
Tip 9: Take into account the intended use and typical user behaviors.
There is a need for space for food preparation if much cooking is done. In general, there should be a minimum area for work. If there is not enough space for this, the dining table should be large enough. If you are planning a small kitchen, you should think about your kitchen's behavior. Useful dishes, for instance, need to be immediately washed or first collected in the sink after being used.
Dishwashers are a sensible investment, depending on typical user behavior. They simplify kitchen work and make a small kitchen look neater. It would be prudent to increase the sink and cupboard space if one does not have a dishwasher. Otherwise, the individually designed kitchen will not bring joy but rather annoyance in the long term.
Tip 10: Make use of technology that will work.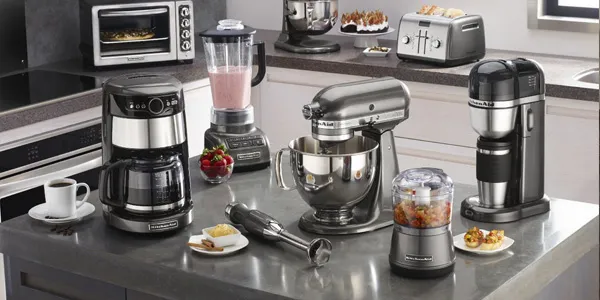 It is important to plan for the appliances in the kitchen. Are there any indispensable kitchen appliances?
Are blenders used regularly? Then there needs to be a fixed place for this.
Do space-consuming, all-around kitchen machines, steamers, and bread machines serve a purpose? If so, you will need storage space for them.
With so many items in the kitchen, additional space is required. It is vital to consider individual needs when planning the kitchen – there is no alternative to moving appliances if there is any doubt about their placement. A multifunctional appliance, which combines several kitchen appliances, takes up less space than separate appliances.
Tip 11: Make use of small electrical appliances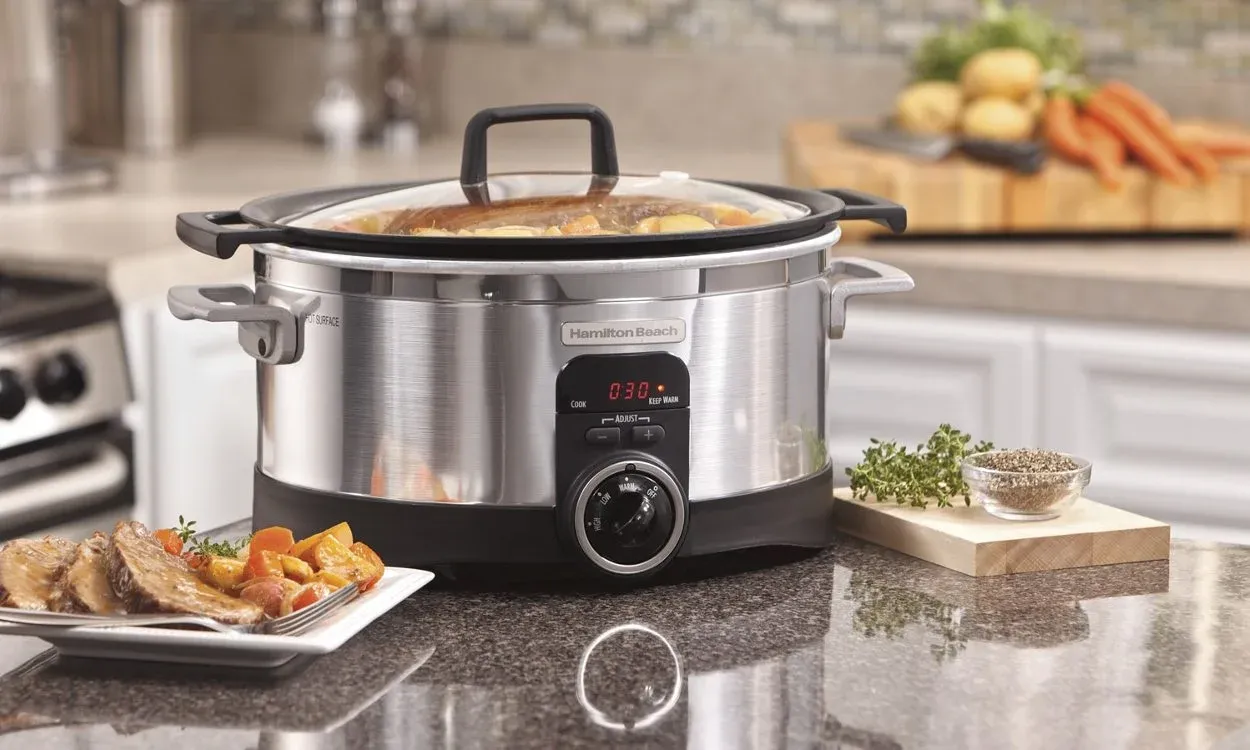 Various electrical items like dishwashers, washing machines, dryers, and refrigerators, known as white goods, are available in standard and miniature sizes. Well-known manufacturers are offering small appliances with a high degree of convenience. They are both space-saving and offer high-performance data.
In addition to the energy label on the appliance, another important factor in the purchase of new products should be energy efficiency. An energy label will replace the old familiar label. There are still several hurdles to clear before that can happen.
Tip 12: Separating the oven and cooktop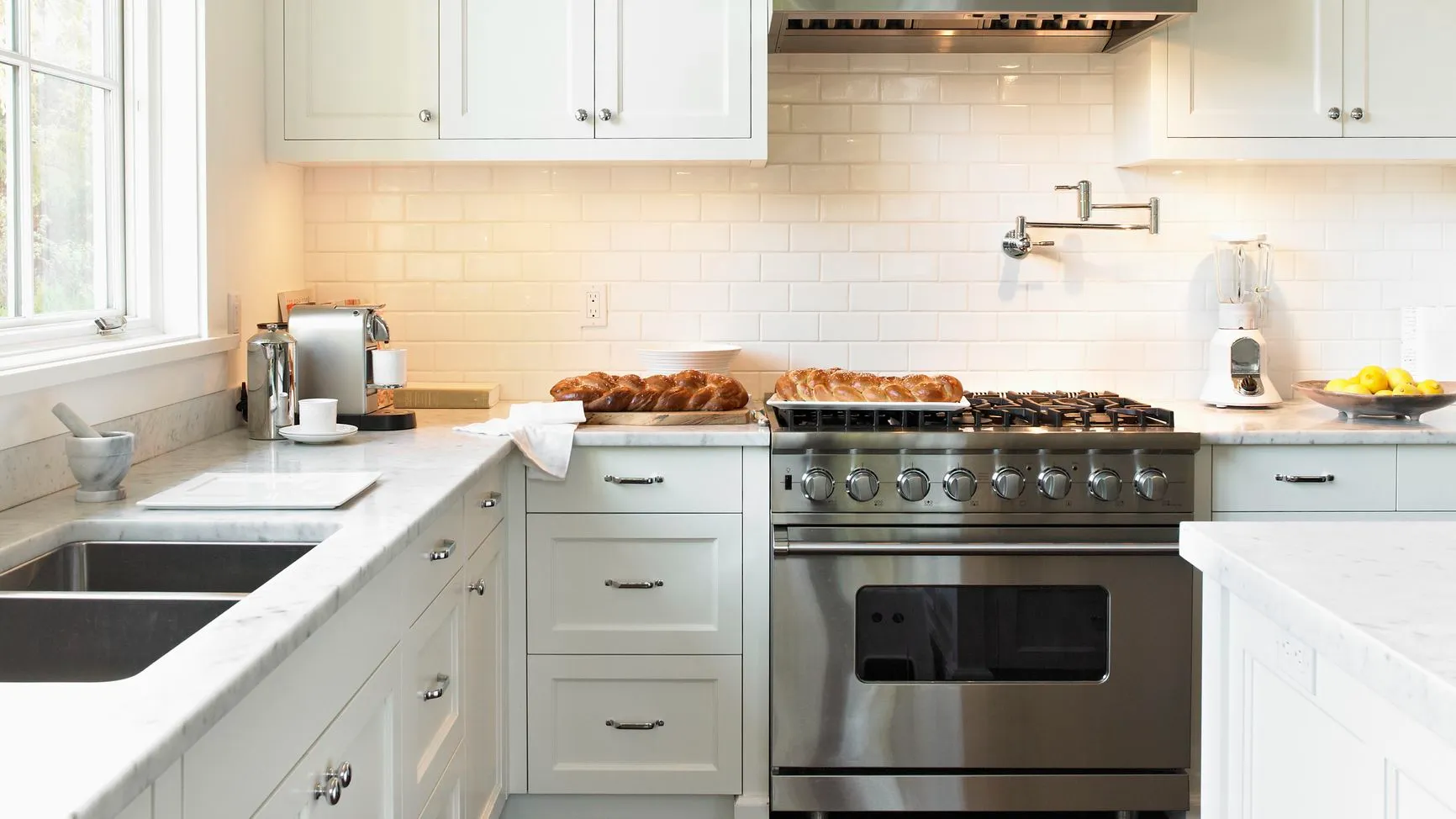 It is common among homeowners with small kitchens to separate the oven and cooktop. This smart solution has the following advantages:
Anywhere in the countertop can be used as a cooktop, including a corner. Cooktops have storage space under them when the oven is not in use.
You can install the oven as a combination appliance (microwave with oven and grill). Kitchen users gain from this feature and keep their floors open and use the footwell without the flap opening into it. Besides sliding elements, lower storage spaces can also be enclosed using a two-part door, which is less disruptive when opened.
Furthermore, separate hobs and ovens allow for more flexibility in kitchen planning.
Considering every detail: It's all about planning.
With a few tricks, small kitchens are equipped comfortably with enough work surface and ample storage space, providing they are planned carefully and meticulously. It is important to pay attention to every centimeter. Accurate measurement and kitchen planning facilitate the best results. Preparation ahead of time is worthwhile. It is ultimately the users' benefit of finding a perfect kitchen for their needs in a small space.