How many times have you looked at your bathroom and thought "I need to renovate" but then dismissed the idea because of the cost? Well, there are a few ways that you can affordably upgrade your bathroom without tearing out all of the tiles. In this blog post,we will go over some tips and ideas for remodeling your bathroom with little or no expense.
Here is how to renovate bathroom in a aesthetic way that doesn't cost much
You've been talking to dislike to them for a while and would like to make changes without major undertakings? If you want those tiles to disappear, you can repaint them, lay waxed concrete, add panels, cover the old tiles with new ones and do many more things! Doing all this will result in, getting a new look for your tiles without spending a fortune.
Resin is what can do the job for you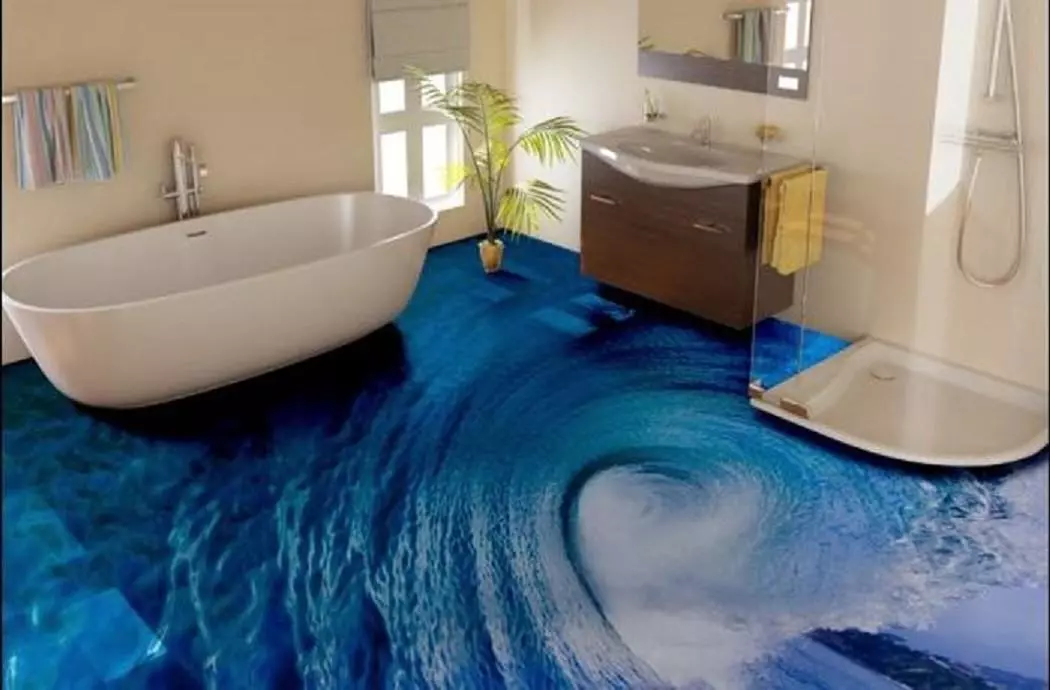 Renovation and decoration have been revolutionized by using resin. Just a few strokes of the roller and your furniture or tiles will be transformed in no time. These tiles work especially well on floors and walls in bathrooms.
Preparing the tiles well is the key to successfully applying it. First, wash and scrub the tiles with dishwashing liquid to prepare them for use. Using white vinegar removes lime stains effectively. When it has been properly cleaned, including the joints, wipe it dry with a clean cloth.
For a perfect adhesion, lightly sand the resin.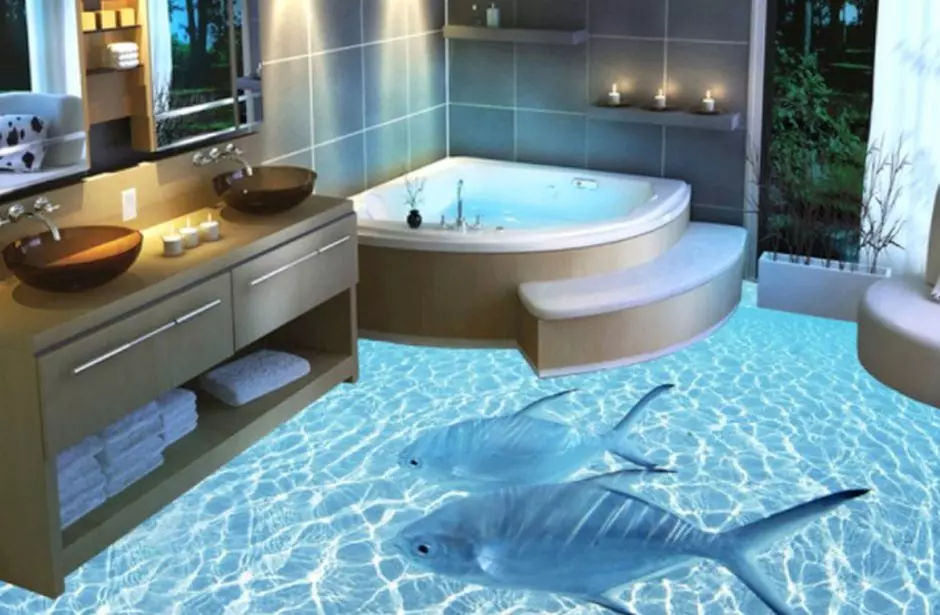 Fill the container with resin and hardener and mix well. Using a foam roller, roll the resin well on your tiles, making several passes while stretching, but without pressing. Use the same process to prepare your finishing resin for application after 24 hours.
Here are some advantages of resin:
The seal is perfect and does not require joints. Mold and mildew cannot grow on painted joints since you paint the joints as well. The resin finish enhances durability and waterproofing.
The durability of resin is impressive: it stands up to shocks, stains, and time. That is why it is suitable for resurfacing floors and walls alike.
Resin also comes in trendy colors. Because of the many colors offered, you are able to express yourself perfectly. With resin, you can create any pattern or design you want!
You can also repaint your furniture while you're at it!
Tile paint: a simple and effective idea!
Tile painting is within everyone's reach if they prepare the surface carefully and take their time. The cost of tile paint is not great, and it can be applied very easily. Using it, you can give an old and outdated tile a new look. Repainting your wall covering with it is a great idea. There are many paint colors available to offer you ideas for making over your bathroom.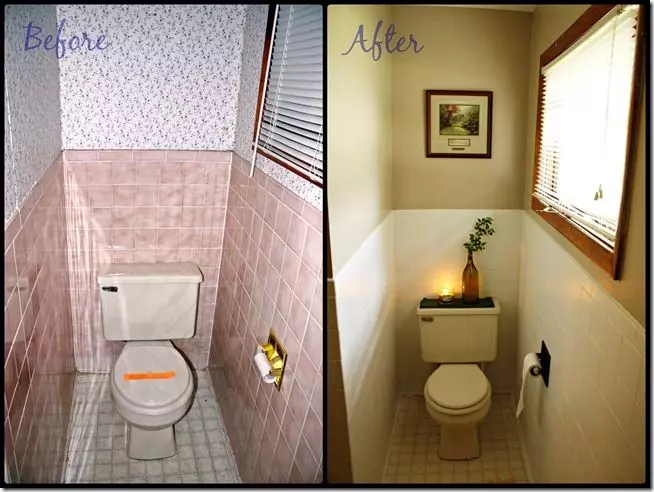 As long as the tiles are perfectly dry and clean, it adheres perfectly. There is no need for an undercoat with this paint as it is much more moisture resistant than all-surface paint.
You should choose a glossy paint finish over a matte finish, because matte finishes will easily show limestone traces.
Preparation for tile paint
There are several things you need for painting, including brushes, rollers, masking tape, sponges, a tray, and a mixing stick. To remove limescale, wash each tile with dishwashing liquid, followed by white vinegar. After rinsing, make sure to dry it properly. Tape around the edges of the tile and then start painting. After you finish, wait 48 hours and then use the bathroom again.
Advice
If you want to maintain your tiles, don't use very aggressive cleaning products. Instead, mix vinegar with hot water and spray the mixture on your tiles. Use a soft sponge to rub gently.
Fast and stylish: waxed concrete!
A waxed concrete floor is an excellent alternative to tiling or even painting your bathroom. There are different finishes and colors to choose from. It is available in gray, white, beige, but also in brown, red, and blue. This is a great way to redo your bathroom and bring freshness. Although with very decorative looks, it also resists water and moisture very well.
Our bathroom looks modernized because there are no joints anymore, which gives the bathroom a completely new aesthetic look. Additionally, it has a mineral and raw side that is very popular, and it has the advantage of allowing you to create material effects.
In order to protect it from humidity, hygiene products, and detergents, it is porous and must be treated with a special product. An epoxy varnish or wax will provide this protection.
When purchasing a product, make sure it is a quality product and not one that will save you money. This is critical for the success of the project and its longevity.
As a precaution to prevent cracking or brittleness, it is important to make sure the surface is clean and smooth.
Applying this is like a cherry on top! You just need to know the right gesture to make it easy to install. You will be pleased to doing this work, and you will appreciate seeing the fabulous results. If you are considering to use it, you will appreciate it more because the walls and floors look totally different.
Applying this is like a cherry on top! You just need to know the right gesture to make it easy to install. You will be pleased to doing this work, and you will appreciate seeing the fabulous results. If you are considering to use it, you will appreciate it more because the walls and floors look totally different.
Adhesive tiles: a quick and efficient tip!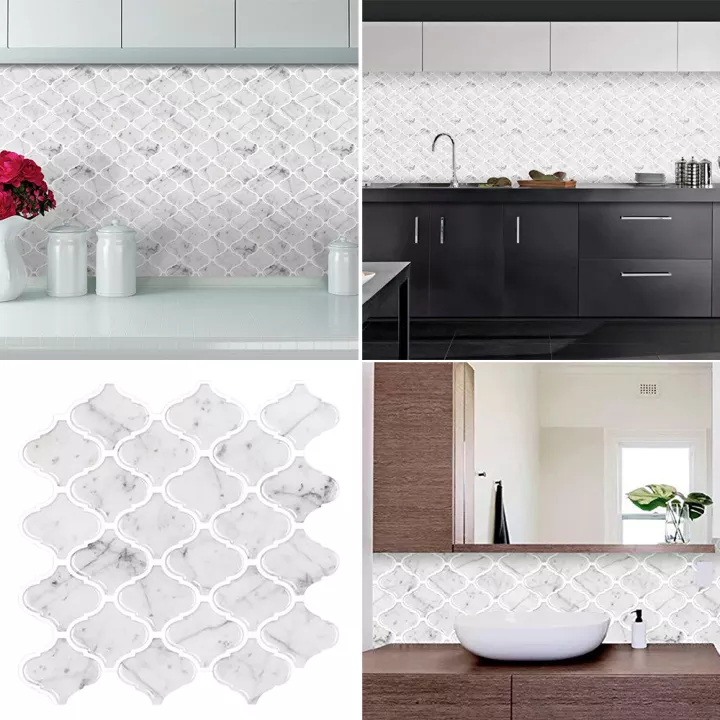 It is a product that comes in various finishes and perfectly imitates tiling. Manufacturers offer a wide selection of models that are well suited to different styles of decoration. This type of tile doesn't require the skills of an expert. Simply cut it to the right size, then remove the film to position it properly.
The old tiles must be cleaned thoroughly so that they will stick properly. If you want a lasting and perfect result, don't hesitate to spend time on it. It is imperative to fulfill this condition.
Water rooms require adhesive tiles; this is essential!
This solution has many advantages:
You can install it very quickly and easily. This idea would be perfect for a tenant.
Because you do not have to purchase any products nor install any tools, you can control your budget completely. Adding a few decorative touches without ruining the whole look is all you need to do.
There is a wide choice that can be adapted to all your desires.
Also, you can use it on the floor as long as you select a high-quality tile that you can easily clean. Because it is opaque, it perfectly covers dated tiles that you no longer want to see.
Although it is not because it is a natural stone, it will continue to look beautiful for many years ahead.
You can also use stickers, but they aren't as durable and will only work on certain types of tiles, such as those with old-fashioned patterns. Moisture is not always well-resisting and it is difficult to clean, especially in cases of stubborn stains.
Wall panel : The Magic solution!
The advantage of the wall panel is that it is quick and easy to install. This material looks exactly like tiles in many different patterns and finishes. A wide selection like this makes the odds of not finding what you want slim.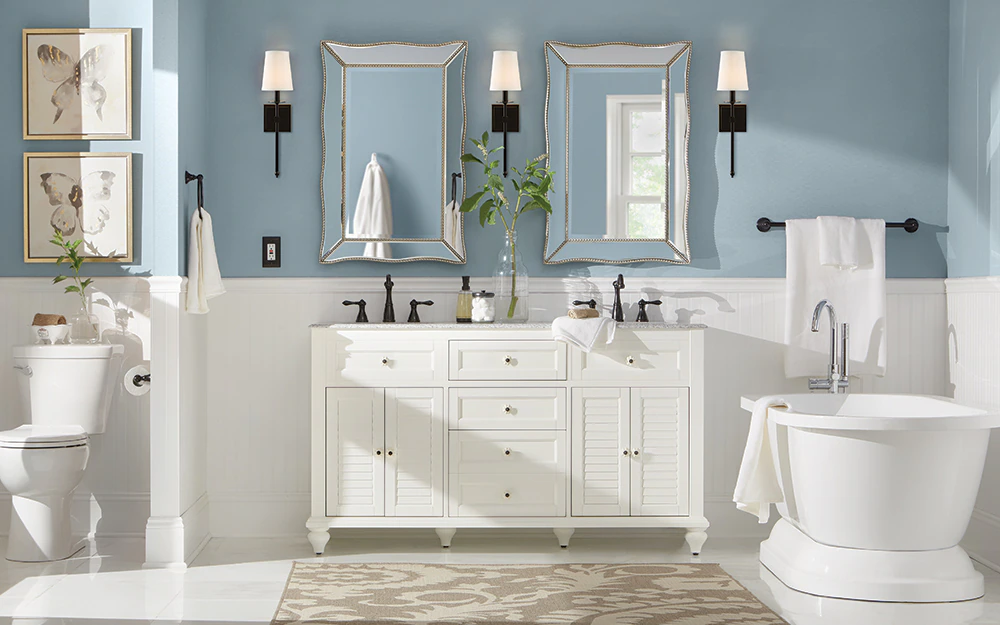 Depending on your needs and preferences, you may choose the size of your panels.
Various finishes are available:
High pressure laminate,
Resin, composite,
Acrylic,
Polyurethane,
Porcelain stoneware,
Glass, etc.
This is a quick and affordable way to renovate your bathroom and it is very fashionable now a day. This is a simple way to renovate shower or bathtub walls, thereby preventing moisture buildup. Having the ability to install it yourself, especially if you are handy, saves on labor costs.
Since these panels do not have joints, they remain clean and do not age. A significant advantage is the lack of time spent cleaning the joints. Additionally, smooth surfaces are fairly easy to maintain. As an alternative, you can install them over existing tiles or over painted walls. There are a lot of different finishes and almost endless options to choose from.
The stone cladding an asset of the bathroom
A decorative choice that is still relatively uncommon but gives the room a lot of character and appeal. Even so, stone cladding can be applied in a variety of effects and renderings that make it very decorative. Furthermore, this kind of stone covering makes renovating a bathroom very easy.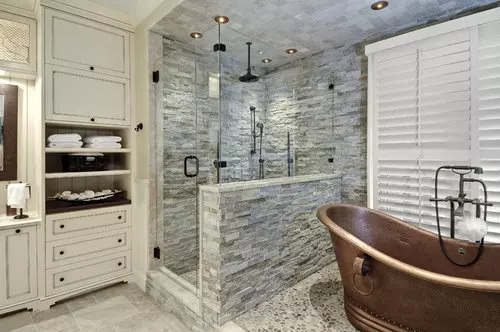 Coatings such as this possess characteristics that perfectly replicate natural stone, brick, or slate. You can choose it for your living space according to the style you want, whether it be contemporary, more classic, or full of charm. Adding a touch of elegance and refinement to your new bathroom, with a combination of soft colors and a raw element that contrasts and gives it a natural spark.
It is definitely the best choice if you want to make a radical change from traditional tiles!
Changes in floor coverings
Your bathroom's atmosphere can be radically altered by simply replacing your floor without removing old tiles! You should consider this as part of your renovation plan. Obviously, you can paint it or apply wax to it, and there are cheap and simple solutions as well.
Clicked parquet: a modern and warm solution
Finished in white or gray tones, the parquet has a very contemporary and aesthetic. There are many benefits to this flooring, which is especially enjoyable when walking around barefooted.
Installing it over old tiles is easy. If you are in a rented apartment you can quickly remove it and take where ever you are moving next.
Choosing a laminate that is water resistant is also important.
Vinyl flooring
There are also many varieties of vinyl flooring, which can be elegantly designed with patterns, prints, and material effects. Considering you aren't likely to have to cover a large room with vinyl, you can choose the finish that fits best with the decor. In the case of waxed concrete imitations, it can appear very contemporary and graphic, while cement tile imitations can be charming.
Why not make your bathroom look like a refined carpet if the space is big enough. It is simple to install and you can uninstall it if you are moving. There are phonic and thermal benefits to it, and it is easy to maintain since there are no joints.
Final words:
The key to remodeling your bathroom without destroying the tiles is starting with a plan. You will need to decide what you want from this project, how much time and money you are willing to invest, and whether or not you can do it yourself. Once these factors have been established, make sure that you take proper precautions when demolishing any walls in order to avoid damaging the flooring below them.
Here are a few ideas for How to Renovate Bathroom easier on yourself with minimal tile damage. Did one of these tips resonate with you? We hope so! If not, let us know what other questions or concerns you have about any part of this process and our team would love to chat more about all your options.