What are the essential elements to make a bathroom look neat? You need to ensure proper zoning, neutral colors, and hide pipes!. The pipes that are left in plain sight can often ruin the design and cause clutter.
Nodes and plumbing are an essential part of interior design in any style, whether it is industrial, loft, steampunk, or loft. Brass pipes are not suitable for the above areas and can be expensive. Designers recommend that you close the pipes, which are more common and less expensive. This article will show you how to Hide Pipes In Bathroom that has access for repair. We also discuss effective camouflage options.


Different types of pipe installation
Two options exist for laying communications.
Open-Access to pipes, valves and connections is maintained. This installation is economical, but it leaves open the possibility of aesthetics and cleaning.
Closed-This is the first step to a practical and neat design. You can use special structures or chasing to close the risers and other communications.
These are the rules to follow in order to properly conceal the pipeline
Think about the location of counters and valves. Access windows or removable panels provide free access to the equipment.
Check that communications conform to standards. This includes checking tightness, angle of inclination, joints, and so on. Pipes must be capable of withstanding pressure and temperature. Only then can installation work begin.
When fixing or erecting structures, be sure to observe safety regulations.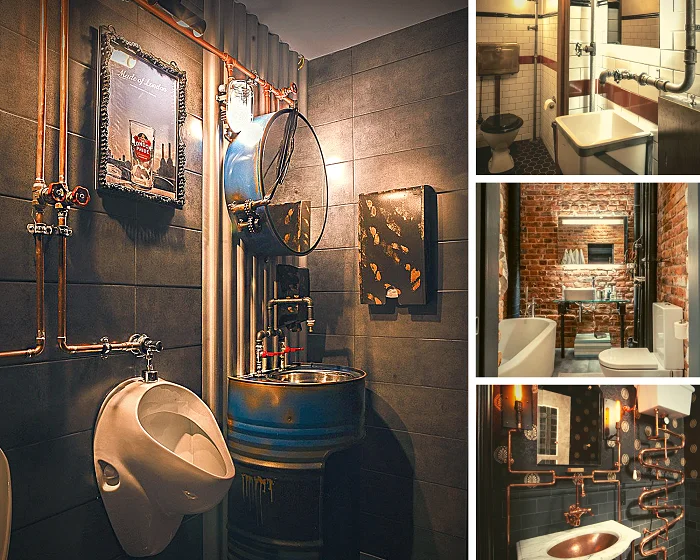 It is possible to conceal pipes from a toilet by embedding sewer and water pipes in walls and floors. Communications are sewn in grooves, which are special grooves that can be punched into the wall with a puncher or wall chaser. Concrete is used to pour the pipe, which conceals the wiring.
Important! Slitting is not used to close the riser. 
The significant diameter of the pipe does not allow to hide communications in the wall.
This camouflage technique is ideal for private houses and new buildings with thick walls. The installation is a stage of rough work that requires skill, time and effort. The laborious process ensures a rational use of your bathroom space and allows you to create beautiful and comfortable interiors.


Please note! Electrical wiring cannot be present in the wall where you are embedding the wiring. The pipes can only be embedded if they are not separated, you must also account for the linear expansion of the material used. You may need clamps to effectively isolate noise and dampen vibration. It is recommended to create a drawing of where the communications are located to be used in future repairs

Box and its variants
The easiest, most cost-effective and versatile way to close the wiring is to use a box. A-frame constructed of wooden slats, metal profiles and drywall can be built by a beginner. Plasterboard can be used to cover the pipes of the toilet. This allows you to create an attractive interior. You can also use tiles and mosaics to decorate the box. It is important to have an inspection hatch in the box for checking meters, adjusting valves, and equipment repair.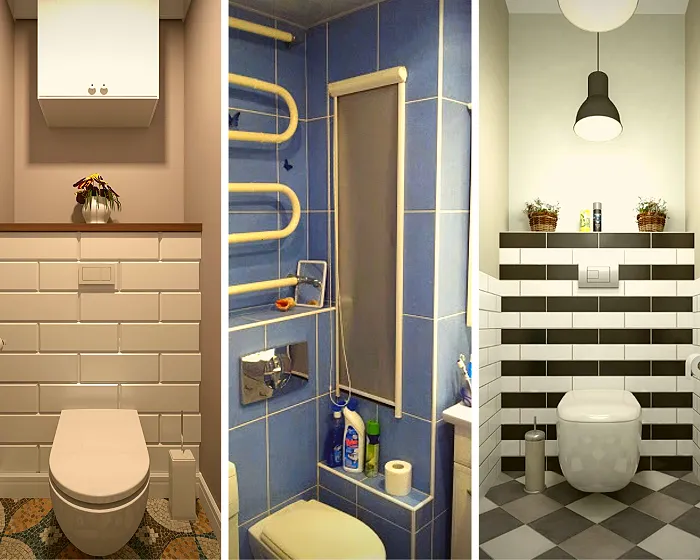 These are the most popular box configurations:
False wall. False wall. Although it takes up more space in the toilet, it allows you close the pipes that are located near it.
Square box This design can be used to hide communications in the corner.
oblique false wall. Fixed to the wall at an acute angle. This saves space.
multi-level design. This is useful if pipes are laid in different areas of the room.
Blinds
A curtain-jalousie is the best solution for practicality, cost, and installation complexity. This mobile false wall is easy to install, doesn't take much time, and can be easily raised and fallen. It also looks nice. There are many models available with lamellas in a variety of materials, including plastic, stainless steel and moisture-resistant wooden. This is an excellent option for budget-friendly renovations. Before a complete bathroom renovation, blinds can be used to temporarily hide communications.
Blinds have a limited service life. This is one of the major disadvantages. It is possible to have to replace individual slats, or even the whole curtain over time.
Roller shutters
Roller shutters are construction that is similar to the principle. Roller shutters are a great way to close pipes in small spaces. However, a more solid product will cost more. Although a screen with a frame looks larger than a roll blind, their raising and lowering mechanisms are similar. When the crossbar is raised, the shutters open the pipe.
These screens have the advantage of sound insulation and high resistance to humidity. Manufacturers offer both remote-controlled and mechanical models.
Built-in wardrobe
An additional cabinet can be mounted on the wall behind your toilet. Built-in furniture can be placed between the walls to hide the pipes and organize a storage area. The utility closet will conceal pipes and large shelves behind its facades. This is where you can store personal hygiene products, toilet paper, and other accessories.
The cabinet's hinged doors are a good choice. They are simple to install, easy to use, and provide quick access to communications. You should pay particular attention to the material used for the sash. Furniture in a combination bathroom should be resistant to high humidity. Plastic doors are the best option. Plastic doors are affordable, simple to clean, and easy to maintain. Wooden shutter doors are another popular option for minimalistic interiors in individual toilets.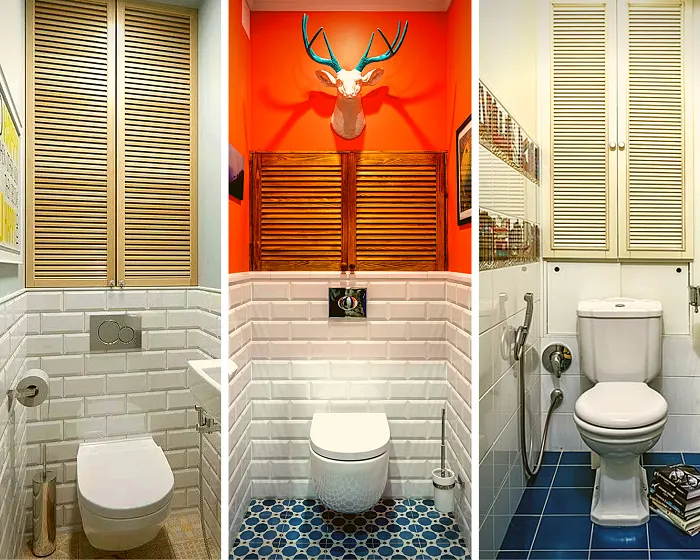 Living home Tips
Our online specialists have gathered important advice from skilled craftsmen that will help you avoid making mistakes when building screen structures.
It is preferable to have a few connections if it is intended to replace communications prior to sheathing the pipeline.
Before you start work, make sure that everything is in order. Mounting the box and walls is possible if there are no leaks.
Condensation can be avoided by heat-insulating material. Pipes should be sheathed around it.
Apartment buildings have bathrooms that provide quick and easy access to communication
Inspection windows should be maintained for taps and valves as well as meters.